Burnt plastic was the scent that accompanied me the first day I arrived in Kosovo. As I reached Gračanica, where GAIA's non-formal education center was waiting for me, the people of the Roma mahalla, my new neighbours, were burning their trash outside, in the streets. An incongruous thought came up to me: "Does Kosovo smell like this all the time?"
I came to Kosovo in March 2018, joining the small team of volunteers working in Imaginatorium, our center where we welcome Roma and Ashkali kids who are willing to take part in our activities. A safe haven for them, a place where they can learn a bit of something, where they can meet their friends without being in the streets, and where they can have a bit of fun with young people from other countries, sometimes a weird sight for this neighbourhood. I joined the program for a year. I had never worked with children before.
The whys of my commitment are a bit hard to remember in retrospect. I did not know anything of Kosovo. For long, I studied International Relations, because I wanted to understand the world, in all its absurdity and complexity. As I narrowed down my interests, I focused my studies on conflicts, because I do not understand why humans can go to such extremities while claiming it to be rational. Because I was studying a very contemporary topic, I narrowed it to the contemporary aspects of it, and I specialized myself in the Middle East, hoping to one day work at easing the tensions in Syria, in Yemen, in Palestine, in Libya. Through the books I read, I wanted to make the world a better and more peaceful place.
Once my master's degree in pocket, I had one last year to be part of a French volunteering program, "service civique", open to young people up to 25 years old. I knew it was an opportunity to seize, for very pragmatic reasons first – a good addition to my CV – but also because it was a way to further my knowledge, to actually understand how life goes in other countries and in different societies. Of course, I applied to projects in the Middle East. But then appeared "Kosovo" on the portal for project opportunities. As for most French people, I only knew that a war occurred there, somewhere in the 1990's. This was not the Middle East, but this was still what I studied, what I wanted to know more about: how do you function as a society after something so horrible happened to you.
This was the why. I wanted to know more about something I knew nothing about. Of course, because this is what I do, I read multiple books about Yugoslavia before my departure. But still, I knew nothing about what would happen, and what I would learn. And so, I was afraid that, for one year, it would smell like burnt plastic everywhere.
It is an understatement to say that volunteering makes you humble. You feel tiny when you have everything to learn. I had to learn how to deal with kids, who was this particular group of kids, I had to learn Serbian and a bit of Albanian, I had to understand the local culture, what is okay and not okay to do. You are jumping into something totally different and unknown. I guess we all wanted to be an "adventurer" when we were kids. This is the closest I ever got to it.
Month after month, with the support of the volunteers and other members and friends of GAIA, I started to feel more comfortable, more knowledgeable. I learnt so much more than in my books, as evident as such a statement might be. Because GAIA believes that volunteers can bring a lot to the work of the organization, it was possible for me to make my own project evolve, and be part of the initiation of the peace-building program that we opened in Mitrovica in 2018. This was more in line with my studies. I was going back to my old-time topics of conflict and peace, the "divided city" being the relict of the tragedy of war. But far from me the idea that I could use my book-knowledge to save everyone there. An important part of my journey was, again, to learn everything. I had to understand Mitrovica, its people, its "sides", its atmosphere, its past and present. This took a long time of living there, of talking to people, of knowing the key places, the main actors of public life. Then, only, could we try to reconcile without offending or hurting anyone.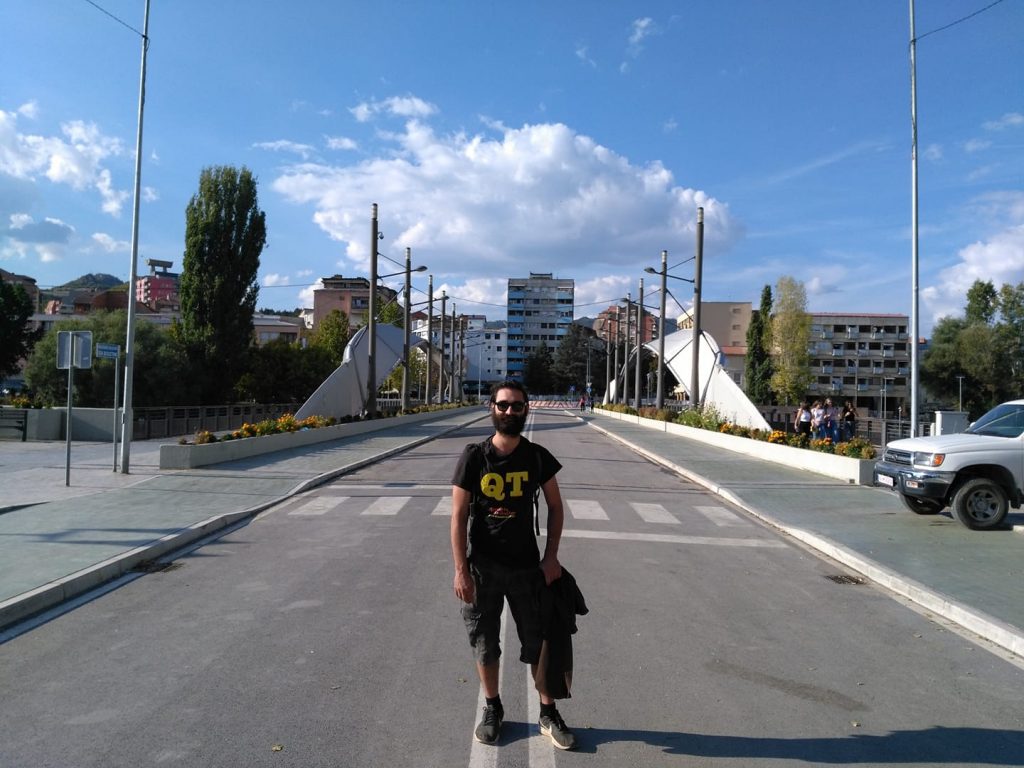 GAIA, sadly, is not an immensely wealthy organization, and our work can only be done with minimal resources. We can pride ourselves to have organized multiple events in the city, to have supported the work of other organizations, to have proposed activities for the local youth. Always our goal was to breath life into the city, to propose new ideas, new perspectives, to give hope for a future here. We blurred the divide by talking to everyone, by presenting Serbs and Albanians as human beings and neighbours rather than opposing factions. We talked about what brings us together, from the threat of climate emergency to the joy of music. These know no borders.
Once again, I was humbled. Stories of the past weigh heavy on you, even if you are just an ear to the victims. When you are in this setting, you get to learn a lot about what big concepts like solidarity or freedom mean. As a young Frenchman, I did not really approach this in depth before being confronted to it this way, by living and working with people actually affected by these topics. It makes you reconsider stuff, and it makes you more empathetic. In the end, meeting people was the core of the experience. It is this way that you truly understand a place, its complexities, its challenges, but also its hopes. Volunteering is about this, about living the experience, and making something meaningful out of what you learn.
A long time has passed since I smelled this burnt plastic scent for the first time. I did another volunteering year through the European Solidarity Corps (ESC), I got married in Pristina, and now I am still around, still trying my best to make Kosovo, and the rest of the world around it, a better place. I guess not every international volunteer get married and stay around, but it is easy to bet that, still, for most of them, volunteering remains a life-changing experience. Wherever it may be, they would broaden their perspectives by meeting cultures they did not even have any idea they existed, by getting confronted to ideas and points of view they did not know about, by befriending people so different from them. Everyone gets something from these exchanges.
And now, when I smell burning trash, I remember my apprehensive self of more than two years ago. And it makes me laugh.
Jeremy, 2020