[Shqip] [Srpski] [Romani] [Türk]
Become an ESC volunteer
Traveling is a way to discover the world and open up yourself to other cultures. But volunteering is a way to truly live the experience. In our complex and interconnected world, being an active part of some meaningful project, in your country or abroad, is important, especially when humanity is facing new crises (climate change, forced migration, wars, economic downturns, loss of biodiversity) that will need solidarity and cooperation among us.
The idea of volunteering is to commit yourself to supporting a community or a cause, not for financial gain but for the sake of solidarity, social justice, human rights, environmental protection, fostering democratic societies, etc. There are lots of ways you can volunteer, but the European Solidarity Corps (ESC) programme helps you find the opportunities, and will cover your expenses during the duration of the volunteering project.
Anyone between 18 and 30 years old can become an ESC volunteer and participate in projects in European countries (EU member-states, Iceland, North Macedonia and Turkey). The topics of the projects are very varied, from volunteering with a youth organization to assisting in health facilities, from ecological farms to cultural institutions, from artistic creation to relief for refugees. Whatever is your interest in life, and whatever is your background, there will be a project for you. You do not need any specific education or work experience, it is not required to speak English: everyone can apply. If you consider yourself in a situation of particular exclusion, you should know that the program is even more available to you, as it gives priority to people with fewer opportunities (minorities, LGBTQ, geographically isolated, economically challenged, persons with disabilities, school dropout, etc.)
Once you are accepted in the project, all your expenses (rent, food, transport, insurance, visa procedures, language classes) are covered by the project, and you even get a bit of pocket money to enjoy your experience fully!
There are two types of volunteering activities you can take part in:
Individual volunteering: You join an organization working on a long-term project. Your volunteering can last from 2 to 12 months. You live and work within the local community, and are coordinated by the hosting organization to get things done.
For people with fewer opportunities, this type of volunteering can be for 2 weeks to 2 months before committing to a longer volunteering time. In duly justified cases, volunteers who carried out a European Solidarity Corps individual volunteering activity lasting up to 2 months can take part in an additional European Solidarity Corps individual volunteering activity. The total amount of time must not exceed 14 months.
Volunteering teams: You join a group of 10 to 40 young people can come to participate in an activity from 2 weeks to 2 months. You can take part in more than one Solidarity Corps volunteering teams activity.
Before your 31st birthday, you can take part in a long-term individual volunteering project only once.
HOW TO JOIN A PROJECT
The ESC projects are visible on the European Youth Portal. To apply to projects anywhere, you need to create an account on the website. Please note that searching the different projects is easier once you are logged in. When you create your account, take some time to fill in the personal information on your profile, and to attach an updated CV. Take good care of it, it is your way of being interesting for the receiving organizations! GAIA can always help you during these steps.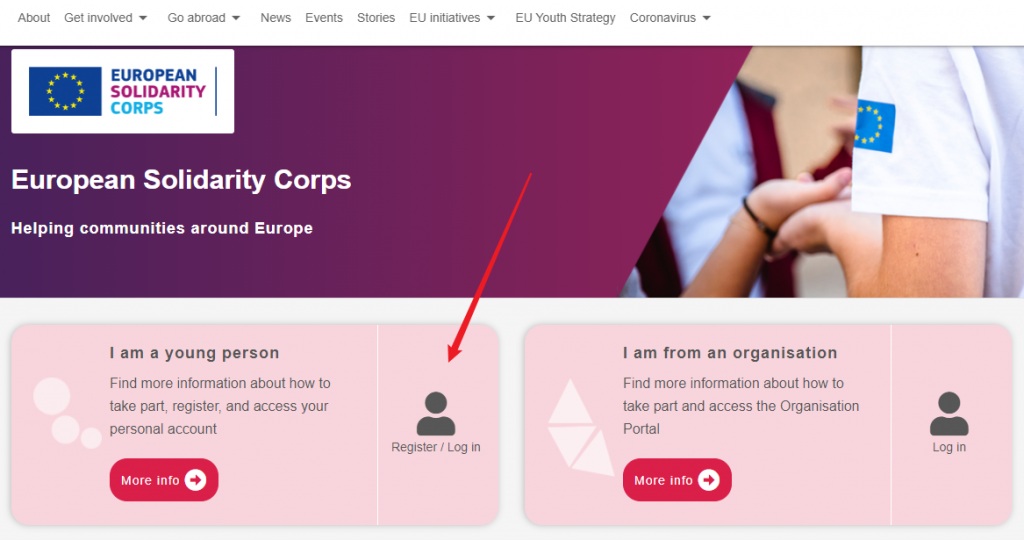 Once logged in, you can browse the latest opportunities, to have an idea of the variety of projects offered. To have access to all the projects available, click on "Opportunities"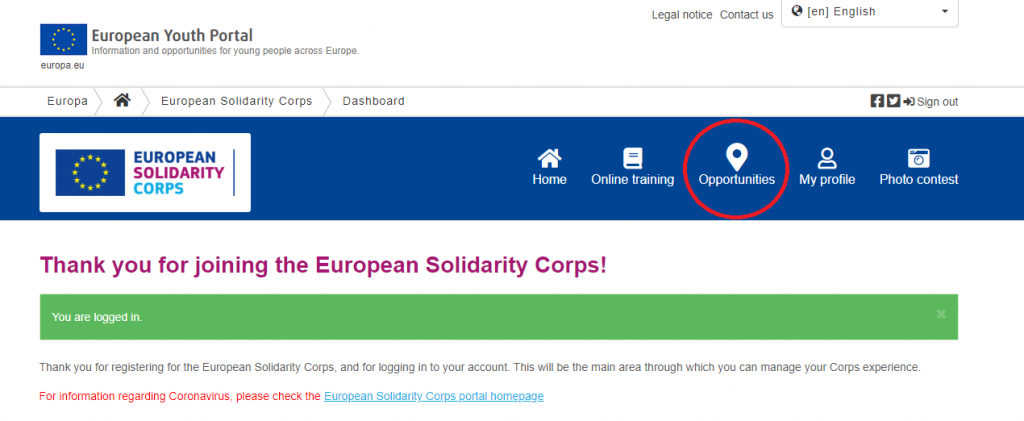 Some projects are reserved to young citizens of specific countries. To make your search easier, you can choose to have only projects that you can apply to as a Kosovo citizen.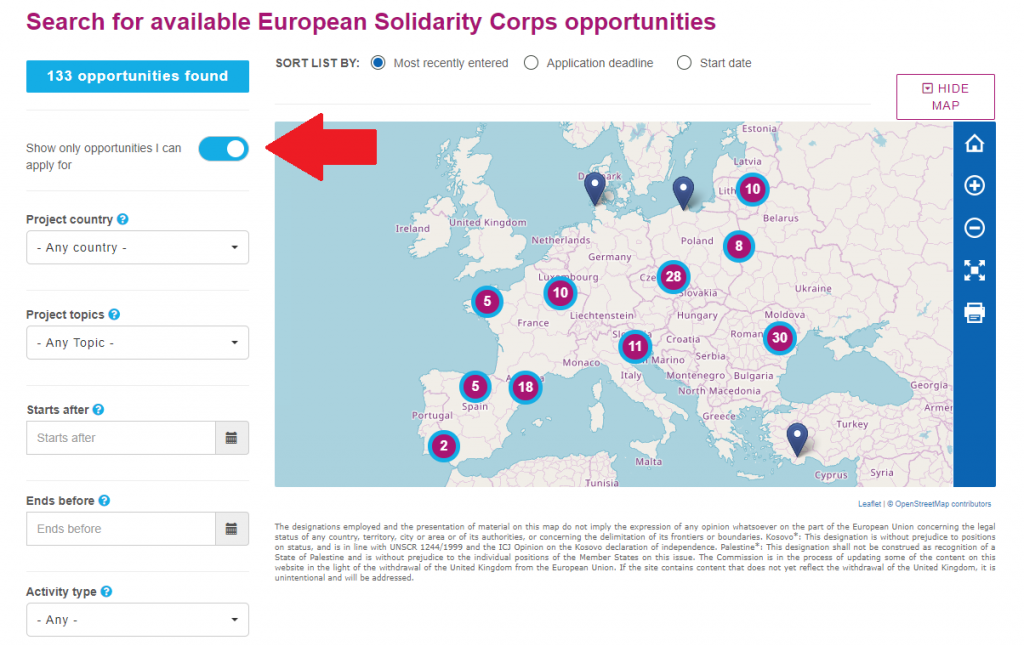 Now appear all the projects you can apply to! You can narrow your search by country, topic of the project, and dates of the project. Because some organizations forget to delete their past projects, we recommend that you put a date in "Starts after". Take into account that even if the portal shows opportunities of long-term volunteering in Spain, the current visa restrictions for Kosovo citizens in that country will not allow you to participate.
You can click on any project to read more about the implementing organization, the aims of the projects, and the activities planned for the volunteers. Once you find your dream project, you can apply directly from the description page of the project. Some organizations might ask you for further information, like a short motivation text, but, even if they will ask you for additional information, a lot of organizations will first rely on what is written in your profile, so take the time to fill in your personal page! Be mindful of the deadlines to apply, they are mentioned in the description page of the project.
To join the hosting organization proposing the project, you will need an accredited supporting organization based in Kosovo. There are multiple organizations accredited in the country. GAIA will be pleased to take this role, but you can also check if there is another accredited organization close to you. The supporting organization will assist you during the whole volunteering process, from the pre-departure preparation, to support from a distance when you are in your new country, to finally assist you in your return to Kosovo at the end of your project. The organization is also available at the very first steps, so that we can help you apply efficiently. To make GAIA your supporting organization, or for more information, you can contact GAIA at info@gaiakosovo.org.
Please note that specific language knowledge is NOT mandatory to take part in the ESC program. Nonetheless, some organizations will require basic knowledge of the country's language, or of English language, due to the nature of their programs. But not being fluent in English is not an obstacle to applying to projects!
            Some projects are approved with GAIA being the set supporting organization. We will then publish calls for participants. Follow our social media to get the info! (Facebook and Instagram)
For more detailed information on ESC, visit our Frequently Asked Questions page.