[Albanian and Serbian versions below]
"We are all dreamers!"
Teodora, 6 years old, wants to be a ballerina, and Liridon, 11 years old would like to become a cameraman. They both have dreams and they both took part in the workshop organised in Mitrovica by GAIA Kosovo during November and December 2019. The project involved young children and teenagers (from 3 to 14 years old) in creating tea bags that were later displayed for free all around the city. 
The idea to organize such workshops came to us this summer, during the workcamp that we organized about street-art. We welcomed foreign and local volunteers with home-made seeds bags and tea bags and thought it was a nice idea. Too often, we tend to forget that nature is here, around us. Offering bags containing our own garden seeds and natural tea is a nice way to make you think about your relation with nature, and to show how easy it is to make useful gifts, without expecting anything in return.
Behind the project also lies the willingness to acknowledge that people are just the same on the other side of the city in the eyes of the children. Mitrovica is not a typical city. Since the war, it is divided into two parts, a South mainly inhabited by ethnic Albanians and a North mostly inhabited by ethnic Serbs. Where it used to be a very mixed city, now interactions between the two parts are too rare, and some of the youth never crossed the river to visit the other side, let alone meet someone from the community they still consider as "enemy".
Since GAIA started its Mitrovica program in September 2018, it seeks to create safe spaces for people from every community to meet and communicate. Involving children from both sides of the city came as an evidence to us, and we tried to find activities that would highlight what everyone has in common (no matter your age, community, gender, etc…). We named the action "We are all Dreamers!" after one specific task that we asked the children to realize: write on a small paper what their greatest desire is, and to put those messages inside the tea bags. Tea bags created in the south were displayed in the north, and vice-versa. For this reason, we translated all the messages in both Albanian and Serbian.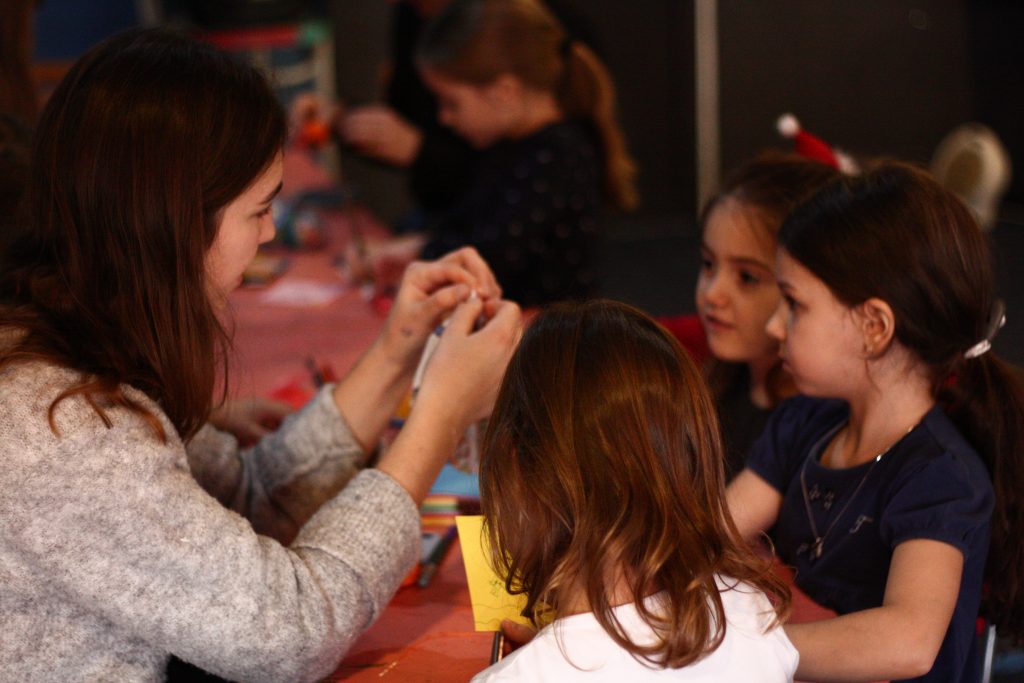 From sewing to filling the bags with tea, children and teenagers all contributed, showing great enthusiasm and surprising us with their dreams. We started the project with teenagers from Musa Hoti school. Their task was to sew the first tea bags. With the help of teachers and of the GAIA team, we managed to create around 80 bags. Children from Nonda Bulka school continued the work, filled the bags with tea and wrote messages. In the North, Miljana from the Gallery Akvarjius, helped us organize the workshop with younger children (from 3 to 10 years old). Some children expressed dreams about their own future, others wished that everyone on earth would be happy. Often, the desire to have one united city came up. We hung the tea bags in specific locations: Mitrovica Social Club, Gallery Akvarjius, the bus station and the main street in the north, the main bus stops in the south. Through this project, we tried to emphasize the importance of getting involved in the life of the city, we tried to foster contact between different communities (even though it may be an indirect contact) and to encourage altruism through the creation of "gifts" for people we don't know. What a nice surprise when on my way to the bus station in the north, the evening after we hung all the tea bags in the town, I discovered that all of them had already been taken, probably to some kitchen, ready to be brewed…
——————————————-
"Ne të gjithë jemi ëndërrimtarë!"
Teodora, 6 vjeçe, dëshiron të bëhet balerinë. Liridoni, 11 vjeç, dëshiron të jetë kameraman. Ata të dy kanë ëndrra dhe të dy morën pjesë në puntoritë e organizuara nga GAIA Kosovo gjatë muajve nëntor dhe dhjetor, 2019. Projekti përfshiu fëmijë dhe adoleshentë nga 3 deri në 14 vjeç. Në këto punëtori ata përgatitën qese të çajit të cilat u shpërndanë falas në tërë qytetin.
Ideja për një projekt të tillë na erdhi gjatë verës, në kampin që organizuam për artin e rrugës. Ne mirëpritëm vullnetarë vendas dhe të huaj me çanta farash dhe qese çaji të përgatitura nga ne dhe menduam se kjo është një ide e mirë. Shumë shpesh harrojmë se natyrën e kemi shumë pranë; ajo na rrethon në të katër anët. Ofrimi i qeseve të mbushura me farat e kopshtit tonë dhe çaji natyral është një mënyrë e mirë për të menduar për lidhjen tonë me natyrën. Kjo gjithashtu tregon se sa e lehtë është të bëni dhurata të dobishme, pa pritur asgjë në këmbim.
Prapa projektit qëndron gjithashtu edhe gatishmëria për të pranuar se në sytë e fëmijëve, njerëzit nga të dyja anët e qytetit janë njësoj. Mitrovica nuk është qytet i zakonshëm. Që nga përfundimi i luftës, është ndarë në dy pjesë, jugu i banuar kryesisht me shqiptarë ndërsa veriu kryesisht me serb. Ishte qytet i të gjithëve, tash ndërveprimet në mes dy anëve janë të rralla, e disa nga të rinjët nuk e kanë kaluar lumin për të parë anën tjetër asnjëherë, lëre më të takojnë dikë nga komuniteti të cilin ende e konsiderojnë 'armik'.

Që nga fillimi i programit të saj në shtator të 2018-ës, GAIA synon të krijojë hapësira të sigurta ku pjestarët e secilit komunitet mund të takohen dhe të komunikojnë. Përfshirja e fëmijëve nga të dy anët e qytetit ishte si dëshmi për këtë. Ne u përpoqëm të gjenim aktivitete që do të vinin në pah gjërat tona të përbashkëta (pa marrë parasysh moshën, komunitetin, gjininë, etj.). Aksionin e emëruam "Ne të gjithë jemi ëndërrimtarë!" pasi kërkuam nga pjesëmarrësit të shkruanin në një copëz letre dëshirën e tyre më të madhe. Këto copëza letre pastaj i vendosën brenda qeseve të çajit. Qeset e punuara në jug u shfaqën në veri, dhe anasjelltas. Për këtë arsye i kemi përkthyer të gjitha mesazhet në shqip dhe serbisht.
Fëmijët dhe adoleshentët që ishin pjesë e kësaj punëtorije kontribuan që nga qepja e qeseve e deri tek mbushja e tyre me çaj. Ata treguar entuziazëm të madh dhe na befasuan me ëndrrat e tyre. Projektin e filluam me adoleshentët nga shkolla "Musa Hoti". Detyra e tyre ishte të qepnin qeset e çajit. Me ndihmën e mësuesve dhe ekipit të GAIA-së, ne arritëm të krijojmë rreth 80 qese. Puna vazhdoi me fëmijët e shkollës "Nonda Bulka", të cilët mbushën qeset me çaj dhe shkruan mesazhe. Në veri, Miljana nga Galeria "Akvarjius", na ndihmoi të organizojmë punëtorinë me fëmijë nga 3 deri në 10 vjeç. Disa fëmijë shprehnin ëndrra për të ardhmen e tyre, të tjerët dëshironin që të gjithë njerëzit në botë të jetonin të lumtur. Dëshira për të pasur një qytet të bashkuar shfaqej shpesh. Qeset e çajit u shpërndanë në lokacione të ndryshme në tërë qytetin: në Mitrovica Social Club dhe Galerinë "Akvarjius", tek stacioni i autobusëve dhe rrugën kryesore në veri, si dhe tek stacionet kryesore të autobusëve në jug. Nëpërmjet këtij projekti jemi përpjekur të theksojmë rëndësinë e qytetarisë aktive. Gjithashtu kemi dashur të nxisim kontaktin ndërmjet komuniteteve të ndryshme (qoftë edhe në mënyrë jo të drejtpërdrejtë) dhe të inkurajojmë altruizmin përmes dhënjës së "dhuratave" për njerëz të panjohur.

Një ditë pasi i kishim shpërndarë qesest e çajit nëpër qytet, po ecja drejt stacionit të autobusëve në pjesën veriore të qytetit. Ishte befasi e këndshme kur zbulova se qeset më nuk ishin në ato vendet ku i kishim lënë. Ato tanimë ishin brenda ndonjë kuzhine, gati për t'u përgatitur.

——————————————-
Svi smo mi sanjari!
Teodora ima 6 godina i želi da bude balerina; Ljiridon ima 11 i voleo bi da bude snimatelj. Oboje imaju svoje snove i oboje su učestvovali u radionici koju je tokom novembra i decembra 2019. u Mitrovici organizovala GAIA Kosovo. U radionici su učestvovala deca i tinejdžeri (uzrasta od 3 do 14 godina), praveći kesice sa čajem koje su potom besplatno razdeljene po gradu.
Ideju da organizujemo ovakvu radionicu dobili smo prošlog leta, tokom volonterskog kampa koji je bio posvećen oslikavanju murala. Strane i lokalne volontere dočekali smo sa ručno pravljenim kesicama čaja i semena, i to nam se učinilo kao dobra ideja. Često nam se dešava da zaboravimo da je priroda svugde oko nas. Deleći kesice sa čajem i semenom iz naše bašte hteli smo da se podsetimo naše veze sa prirodom, i toga kako je zapravo lako napraviti korisne poklone bez očekivanja ičega za uzvrat.
Projekat je takođe nastao iz volje da se skrene pažnja na to da su u očima dece ljudi jednaki sa obe strane grada. Mitrovica nije tipičan grad. Od rata je Mitrovica podeljena na dva dela – južni u kome u glavnom žive etnički Albanci, i severni u kome su većinom etnički Srbi. Grad koji je bio poznat po svom diverzitetu sad se sveo na minimalne interakcije između dveju strana, pri čemu neki mladi nikad nisu ni prešli na drugu stranu reke, a kamoli upoznali nekog sa "neprijateljske" strane.
Otkako je GAIA započela svoj program u Mitrovici u septembru 2018, cilj je da se osigura prostor u kome ljudi iz različitih zajednica mogu da se sretnu i komuniciraju. Uključivanje dece sa obe strane grada poslužilo je kao dokaz, i pokušali smo da se fokusiramo na aktivnosti koje ukazuju na stvari koje su svima zajedničke (neovisno od uzrasta, pripadnosti zajednici, roda i dr.) Nazvali smo akciju "Svi smo mi sanjari!" po jednom od zadataka koji su deca dobila: da napišu na papiru koja im je najveća želja, i da te poruke ubace u kesice sa čajem. Kesice koje su napravljene u južnom delu grada ostavljene su na sever, i obrnuto. Radi toga su sve poruke prevedene na albanski i srpski.
Od šivenja do punjenja kesica, sva deca su doprinela radionici sa puno entuzijazma i vrlo iznenađujućim snovima. Započeli smo sa tinejdžerima iz škole "Musa Hoti". Njihov je bio zadatak da sašiju prve kesice, i uz pomoć nastavnika i ekipe iz GAIA-e, napravili smo oko 80 kesica. Deca iz OŠ "Nonda Bulka" nastavili su posao sa punjenjem kesica i pisanjem poruka. Na Severu nam je pomogla Miljana iz Galerije "Akvarijus" da organizujemo radionicu za mlađu decu (3-10 godina). Neka od dece pisala su o snovima za svoju budućnost, neka su želela svima na planeti sreću. Neretko se pojavljivao i san o ujedinjenom gradu. Okačili smo završene kesice na nekoliko lokacija: "Mitrovica Social Club", Galerija "Akvarijus", autobuska stanica i glavna pešačka zona na Severu, kao i na glavne autouske stanice na Jugu. Pokušali smo ovim projektom da naglasimo važnost uključivanja u život Grada, kontakta između različitih zajednica (maker i indirektnog), i podsticanja altruizma kroz pravljenja "poklona" za ljude koje ne poznajemo.

Kakvo divno iznenađenje kad sam dan posle kačenja kesica po gradu, na putu do autobuske stanice na Severu primetila da su sve već odnesene, verovatno u neku kuhinju, spremne da se zakuvaju.