GAIA Kosovo is happy to announce several amazing long term volunteering opportunities in Switzerland, starting in August or September 2021. GAIA Kosovo can be a sending organizations only for:
young people from 18 until 30 years old
citizens of Kosovo
haven't done an EVS project yet (except up to 2 months)
You can find more info about the Swiss EVS program here.
There are 2 project in different places in Switzerland which are looking for volunteers.
Ecole d'Humanité in Hasliberg
The Ecole d'Humanité is a progressive, international boarding school in the heart of the Swiss Alps (in the winter ski area Meringen-Hasliberg) that fosters the discovery and development of individual talents in an atmosphere that encourages self-determination, innovation, and tolerance. 120 Students and 50 teachers from over 20 different countries live together in a dynamic community overflowing with academic, artistic, practical, athletic, and social opportunities.
Whether admiring the beauty of a poem, projectile motion in a calculus-based physics class, performing an original piece of guerilla theatre or summiting a 4000 meter peak, Ecole students are challenged to actively discover and pursue their passions, and share them with others.
The project starts the 1rst of September 2021 and is for 11months.
More information about the project are available here:
Heitere Fahne, an inclusive cultural centre in Wabern
Heitere Fahne is an alternative pioneer project for inclusive culture with utopian flair. A collective consisting of roughly 40 people organizes concerts, parties, theaters, festivals and creates a weekly cultural program in a historical brewery near Bern as well as other urban spaces. As elementary part of the concept, Heitere Fahne always blends its cultural and gastronomical projects with social background and enthusiastically addresses topics such as dis/ability, migration and mental health.
The project starts in August or September 2021 and is for 12 months.
More information about the project available here: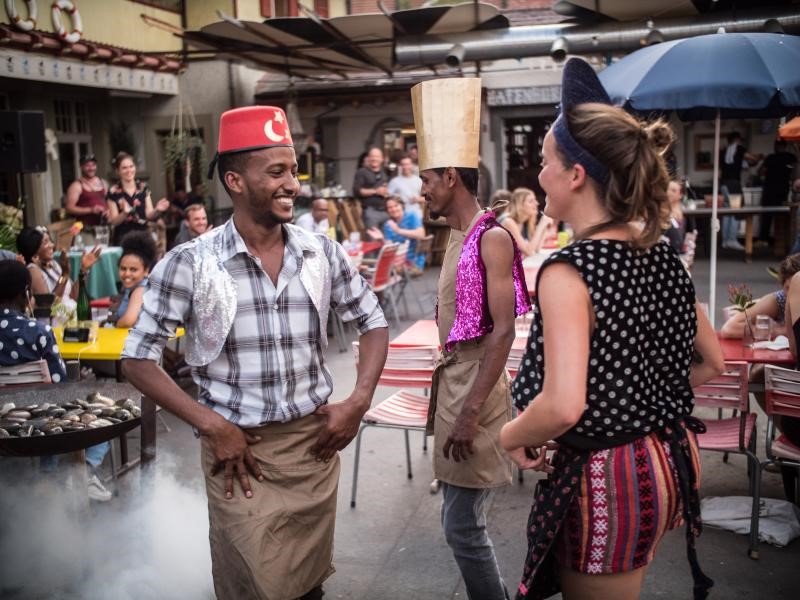 Information about application procedure is included in descriptions of volunteering positions.