GAIA Kosovo is looking for 8 young people from Kosovo interested to volunteer with us and learning how to build a house with straw bale and earth. The project will gather 15 volunteers from France and Kosovo for 24 days (23rd of July until 17th of August) in the small village Bozevce, in the eastern part of Kosovo. This activity is organized together with Hors Pistes, our partner organizations from France, and with financial support from the European Solidarity Corps programme.
CALL IN ALBANIAN: http://gaiakosovo.org/2021/06/13/thirrje-per-vullnetare-nga-kosova-per-nje-kamp-24-ditor/
CALL IN SERBIAN: http://gaiakosovo.org/2021/06/13/traze-se-volonteri-ke-sa-kosova-za-24-dnevni-kamp-o-prirodnoj-gradnji/
APPLICATION FORM: https://forms.gle/BzWaEbr7i7teUJ919
This project is part of a bigger GAIA program about natural building and permaculture, which aims at establishing a place for education, volunteering, and different sustainable practices. This year's goal is to build a new facility for food production and a community kitchen, which will be done through natural building techniques: straw-bale walls, earthen plasters, wooden construction and a green roof.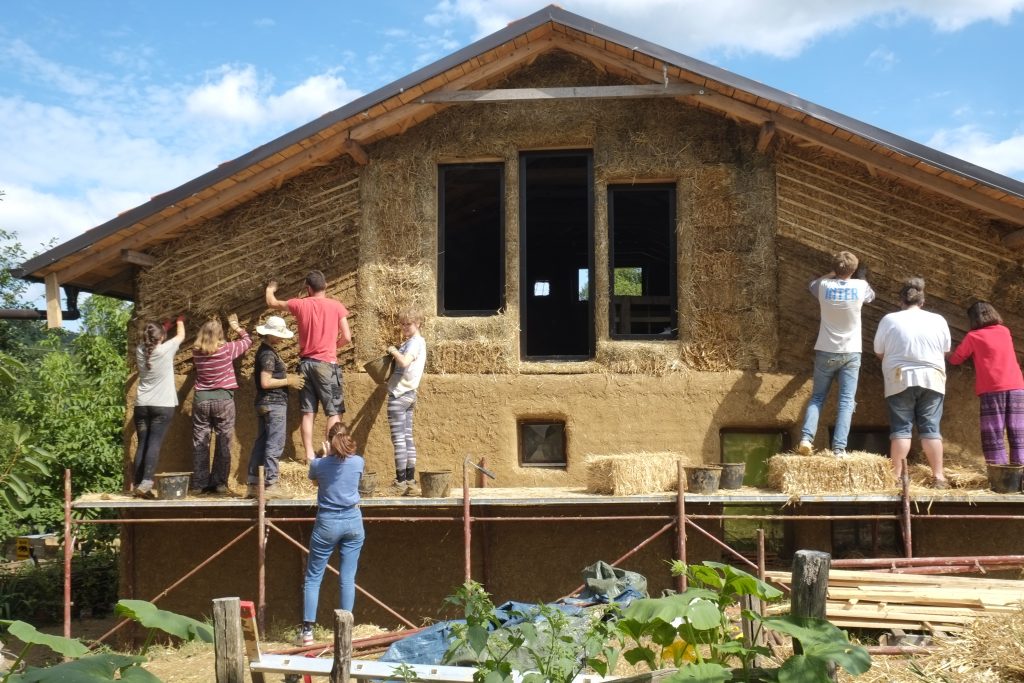 Work
During this ESC volunteering team, the main activity will be about building the walls. Volunteers will set up straw-bale walls in already built wooden construction, learn how to customize straw-bales, how to put them properly and connect them into a stable frame. After that, volunteers will make an earthen mix from soil, straw, sand, and water and apply it as a plaster on the straw-bale walls as protection from rain, wind, insects and so forth. If there will be enough time left, the volunteers will also help in building the green roof together.
Accommodation & Food

The volunteers will stay at GAIA"s estate in Bozevce. Sleeping will be possible in the educational house on mattresses or in tents. Volunteers should bring their sleeping bags. There are several composting toilets and outdoor showers. Cooking and cleaning will be done in teams and food will be vegetarian, seasonal, local, healthy, and very tasty. Lifestyle is sustainable, simple, and without much technology and virtual connections.
Learning possibilities
Participants will have plenty of possibilities to learn about sustainable living, permaculture, medicinal and edible plants and nature-related topics. Since this project is about building naturally with straw-bales and earthen plasters, the volunteers will specifically learn about:
History of natural building and different techniques
How to use basic tools
How to build with straw-bales
How to prepare and test earthen plasters for houses
How to plaster straw-bale walls
Probably much more…
Requirements for participation in this ESC project
This project is open for all young people from Kosovo, but candidates from rural areas will have a small advantage. There are only a few specific requirements:
To be a resident of Kosovo
To be older than 18 and younger than 30
To be interested in environmental topics, natural building, permaculture, and similar
No previous experience is needed but on contrary… if you had fewer opportunities for participating in international activities, that would be an advantage
Basic English is welcome, but not necessary… we will find a way to communicate 🙂
Volunteers should be OK with the following conditions:
Simple and sustainable living principles (compost toilet, saving water, electricity and other resources)
Vegetarian and healthy food
Sharing space with other volunteers
Teamwork and physical work
Presence of animals such as dogs, cats, chickens etc.
Interested candidates should fill in this application form before 25th of June 2021.
Please use the space to explain your motivation, previous experience, expectations etc. Short applications will not be taken into account. However, if it is, for any reason, complicated for you to fill in the application, we can also organize an online or phone call. Please do not hesitate to contact us.
Selected volunteers will be informed by the 30th of June.
European Solidarity Corps projects are special in several ways:
All volunteers will have to sign the Volunteering agreement
Travel costs will be covered
All volunteers will be insured
All costs of food, accommodation, tools, materials will be covered
Small pocket money will be given to each volunteer (3 euro a day)
At the end of the project, volunteers will receive Youthpass certificate