The Western Balkan Youth Participation ideas lab, which took place in Podgorica from the 2nd to the 5th of December, was an incomparably rich and insightful event, which, thanks to GAIA Kosovo, I had the opportunity and pleasure of attending. The event gathered youths and youth workers from across the Western Balkans (WB) together to discuss and reflect over the essence of youth participation as well as the challenges it faces in WB countries and what could be found to help surmount these.
The five strong Kosovar "delegation" arrived in the late afternoon of the 2nd following a breath-taking six-and-a-half-hour drive through the snow-covered northern Albanian mountains, then along the plains to Shkoder and its immense lake over-looked on one side by the gloomy overcast Albanian hills and the other by the Montenegrin border. My arrival in Montenegro and Podgorica, which also marked my first time in the country, was greeted with incessant heavy rain, which however, as I quickly learned, did very little to quench the imagination, inspiration, and motivation of the participants.
Inquisitiveness and eagerness to exchange was immediately apparent from the outset and the opening evening session, albeit short, served its purpose of allowing me to get to know the other participants spanning from across the WB, each involved in their own projects and organisations promoting youth participation at various levels, be it local, regional or national. The programme for the next two and a half days would prove to be quite intense, yet equally stimulating and informative. Gone was my fear of having to sit and listen to speech after speech concerning youth participation and leave Podgorica with a handful of notes I had taken therefrom. The majority of the activities planned for the sessions required active involvement, lots of teamwork, and ultimately quite interactive.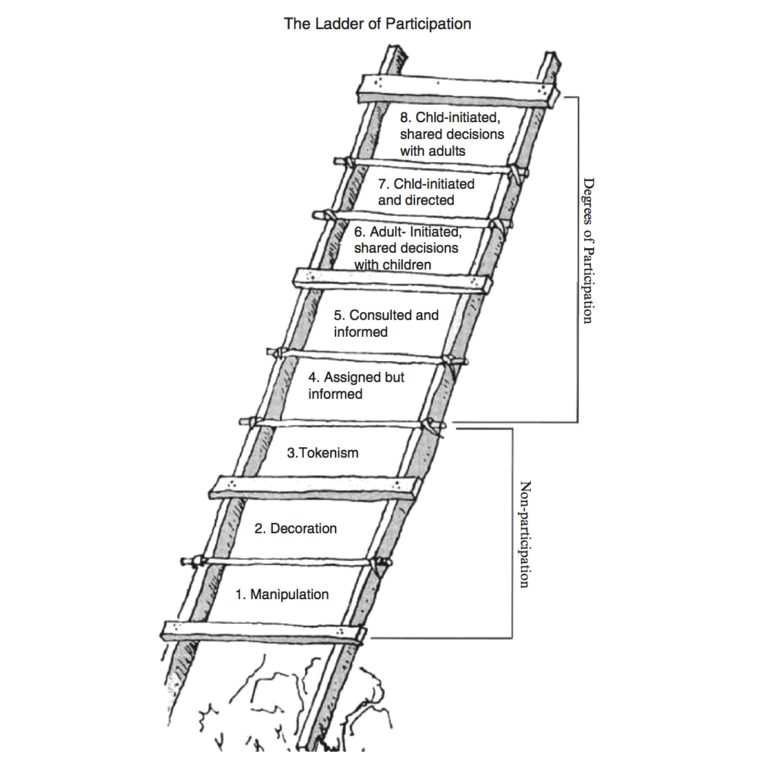 Before the ideas lab officially began, each participant wrote down their expectations for the event on a sticky; something we would come back too at the event's end. Our first group activities focused on gaining a common understanding of what youth participation is; exploring participation mechanisms, relevant actors, and its core fundaments. In this regard, the organisers introduced the 'participation ladder' in order to identify the different types of participation and non-participation than can exist in youth work linked to the amount of agency that youths possess (fig.1). The work in small groups irrespective of where one's organisation was based and in a rather informal manner. The emphasis was on discussion and exchanging and the results thereof were written down either on flip charts, sticky notes and a common online platform: Padlet. Then, instead of each group standing up or going to the top of the room to present what they had thought of to the other groups, the results of all our discussions were discussed collectively as a group. As, for example, where groups placed different examples of (non-)participation on the various rungs of the 'participation ladder' based on how much youth participation they felt each example represented.
The second day saw representatives of local Montenegrin government were arrived on the second day to present manners in which youth can be actively involved in local decision-making procedures and stayed a short while afterwards to answer to a number of questions. Other mini-round table discussion and group work talks focused on the challenges and issues that youth participation faces in WB states, which, as I discovered, can be internal or external factors or a mixture of both. For example, lack of governmental recognition was identified as an obstacle for youth volunteering in WB states. Also impactful was the lack of motivation and enthusiasm of youth workers in associations, which can undermine a projects mission. For this, each WB country formed a group and worked together in order to identify an issue concerning youth participation in their respective countries. Kosovo, the group I was in, focused on the lack of institutional recognition towards volunteering. We devised a potential outline plan for what we thought needs to change and what steps could be taken in order to achieve this. The results were then shared and presented to the whole group and saved to serve as a basis for a potential future follow-up event (no date set).
Overall, the ideas lab was a very enjoyable experience. It was eye-opening, inspiring, and ultimately very informative. We all returned to the expectations we had written down before the event started and stuck them onto a large 'expectations dart board' to show how content we were that our expectations were met. Looking there, I could see that the vast majority of expectations had been met, mine included. The lab had made the notion of youth participation much clearer in my mind and numerous ways whereby youths and youth workers can facilitate youth participation at various societal levels were presented to me. The mixture between more traditional information sessions, proactive group work sessions, and computer work was strong point of the event, which facilitated discussions and made sure that my focus was maintained through the day. Working in small groups is something I found immensely beneficial as it provided a great opportunity to meet and exchange with participants from other WB countries, but it was also an innovative way making sure that each activity was fruitful and produced relevant results. This is something I found hugely beneficial as since I am not originally from the WB, I was unfamiliar with the situation there concerning youth participation. Thus, I was able to gather a vast amount of first-hand information on the topic from persons directly involved, which allowed to me paint a much clearer picture of the situation, the issues youth participation faces and suggestions participants had in order to address these.
In the end, I left Podgorica just as I had arrived there: under dreary grey clouds of heavy rain, but inspired by the ambition, imagination, and motivation of youths and youth workers to ensure that youths have a say and actively partake in today's society.
Paul O'Neill, December 2021