GAIA Kosovo can be the supporting organization only for volunteers from Kosovo!
Description: The association « Les Amis du Fort de Jouy » works at the renovation and restoration of the 19th century of the military fort of "Jouy-sous- les-Cotes". The fort is situated in the East of France, not far from Nancy, and its aim was to protect France against potential German attacks. Since 2002, the association works on its development: visits are organized for the tourists and it is also often used for cultural and artistic events.
Type of work: The tasks will be very different from day to day… You might be asked to paint some doors, to create some mortar and replace some stones of a wall, up on a scaffold… But you could very well be cutting some branches in the ditch. Some tasks are more fun than others. We are then counting on you to take turns and make sure everyone is having fun!!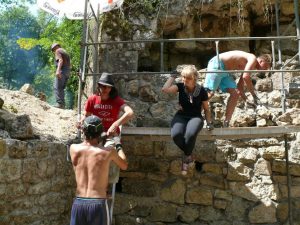 Accommodation
: You will be accommodated INSIDE the fort. We will prepare a bed camp for you with real beds and mattresses. You will be needing however your sleeping bag, a bed sheet, a pillow and a towel. Bring a WARM sleeping bag as it can be very cold
at night
in the fort. Please also note that there will be no wifi/internet connection or a landline phone.
There is only one bathroom with one shower and toilet on the site. Toilets are mainly squat type!! Please keep in mind that the condition of life are very simple and rudimentary !
European Solidarity Corps conditions:
To be between 18 and 30
To be registered on the ESC
Accommodation, food, insurance, pocket money, transportation cost will be covered according to the ESC guidelines
Apply to SCI France as soon as possible