Learning opportunities about permaculture and natural building
The world is full of challenges and problems… the pandemic is still around, the new conflicts have just begun, the climate change is over our heads, waiting for our awakening and we may feel just too small to do anything.
One of our ways for dealing with this feeling of dispair and lack of sense, is to learn, grow and share the knowledge with others. This is why we are organizing different events about permaculture, natural building, green enterpreneurship and volunteering in our small estate in Bozevce village.
This year is full! Plently of opportunities for anyone…
Some of the events have local character, while some other are international. Feel free to get in touch with us for more info…
Here we will present the overview of actitivies. The calls for participants will be published accordingly.
Weekend workshop on traditional building tecniques
From the beginning of April till the end of June, six 2-day workshops on traditional and eco-construction techniques will take place in Bozevce. These workshops will be open for young people from all around Kosovo. Each out of the 6 workshops will present a different technique of traditional building:
Workshops in APRIL
traditional fence, 15th – 17th of April, CALL CLOSED
Workshops in MAY
traditional bread oven, 6th – 8th of May, OPEN CALL
earth plastering, 20th – 22nd of May
Workshop in JUNE/JULY
traditional carpentry, 5th – 7th of July
traditional adobe bricks, dates to be confirmed, 15th – 17th July
These workshops are part of the project "Cultural Heritage as a Driver for Intercommunity Dialogue and Social Cohesion" project implemented by UNDP Kosovo and funded by the European Union's Instrument contributing to Stability and Peace (IcSP).
Training courses and Youth Exchanges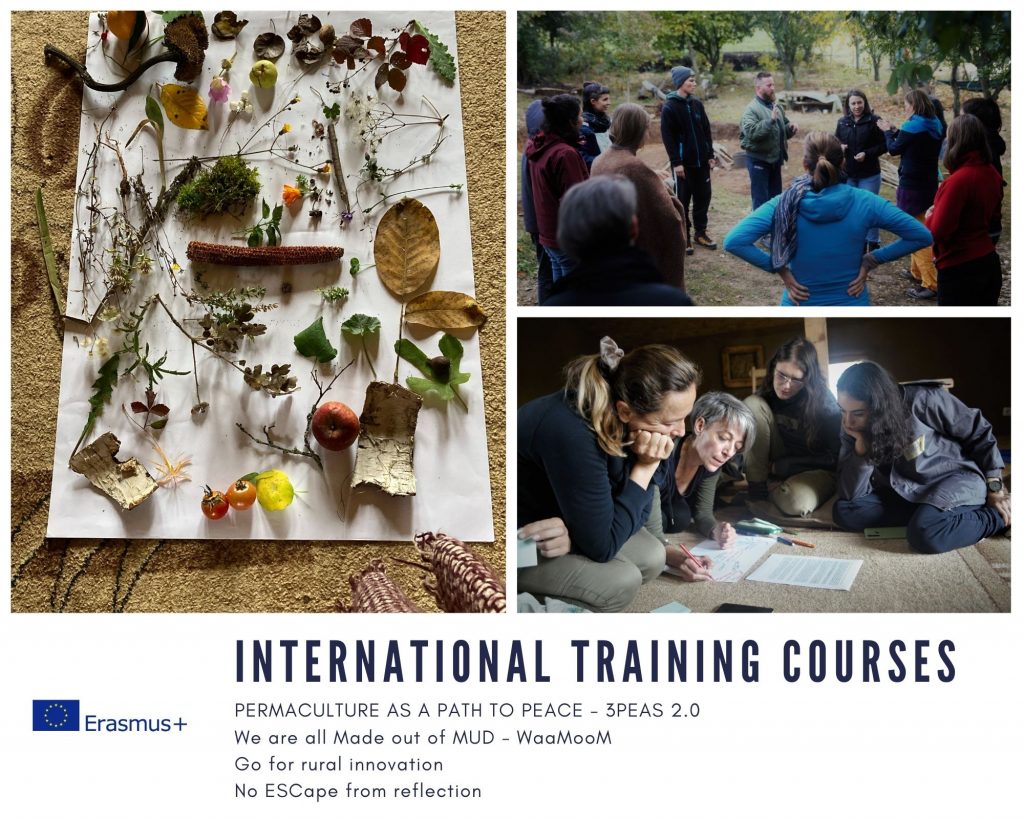 We will host several international training course for young people and youth workers. For each of them, we have different partner organisations eligibile to send their representatives. The calls will be published soon.
No ESCape from reflection Training Course for ESC mentors, October, 15 pax – this TC is for mentors from Croatia, Serbia, Kosovo, Bosnia and Herzegovina, Albania and North Macedonia. Postopened for the last week of October.
Permaculture Design Certificate Training Course, 26.5 -8.6, 15 pax – is part of 3PEAS 2.0 project and as such is open to youth workers from Slovenia, Croatia, Italy, France, Bulgaria, Serbia, Bosnia and Herzegovina, North Macedonia, Montenegro, Turkey, Germany, Albania and Kosovo. Call for pax, deadline 5th of April 2022.
WaaMooM Youth Exchange on natural building and gender equity, 10-19th of June, 30 pax – open for young people (18-30 years old) from Croatia, Serbia, Turkey, Montenegro, Albania and Kosovo. Call for participants, deadline for application 1st of June 2022.
Go for rural innovation Training Course, 25th of June until 1st of July, 20 pax – is an activity organized with Eurasia Net from France and will gather youngsters from France and Kosovo.
European Solidarity Corps volunteering teams
We are planing to host 2 groups of international and local volunteers through ESC program, mainly from France, Kosovo and other European countries. The dates, length and scope will be defined soon and calls for participants published.
ESC volunteering team on natural building, 16 volunteers, 3 weeks in July,
Call for 4 volunteers is available here – 1 place left!!!
ESC volunteering team on food production, 3 weeks in September, 10-15 pax, most probably from 10th until 30th of September
Calls for participants will be published accordingly.