Six months.
Last summer, I decided that I wanted to work in the field of international solidarity, but the problem was that I did not have any experience. I finished my studies, graduated and decided to throw myself into the real world, that is to say, to make a 'Service Civique' (French volunteering program) abroad. The mission: being a long-term volunteer working with Roma kids aged between 3 and 16 years old in a non-formal education center. I was used to work with youngsters but knew nothing about this public or even the Roma culture.
On 1st October 2019, here I am, in Kosovo. The land of everything and anything, where several cultures and languages are mixed. Where poverty faces big brands malls and so on. So, here I am in Gracanica, a small mainly Serbian-inhabited city, located about 20 minutes by car from Prishtina, Kosovo's capital.
"Radi škola?" ("Is school working", in Serbian) the kids are asking. "What's your name?" with an accent that I have never heard before. I will always remember these first days at school with these Roma kids. In those times, I realised that language really matters. So, I began to learn at the same time the life with roommates, how was the city working, the Serbian language and of course to know the children that I am working with every day in the center called Imaginatorium. These children and teenagers who are plenty of energy, surprises and with whom it is at the same time so joyful and so hard to work with.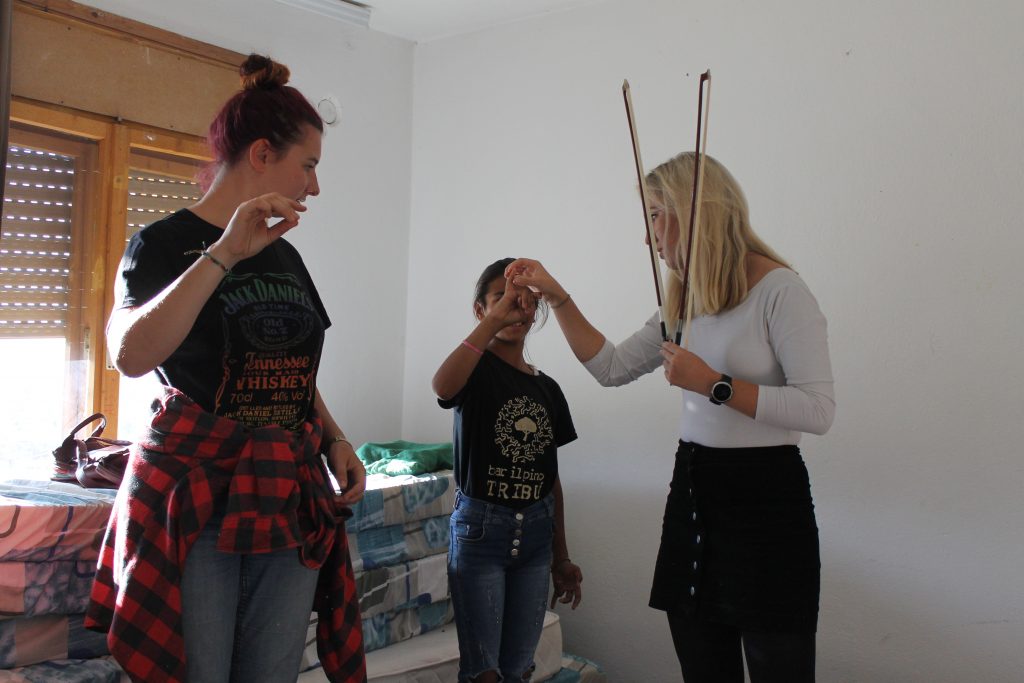 As far as the weeks and the months passed, we entered in a good routine. We can say that a normal day is composed of two main times. The morning is always a source of reflection, but also of a coming-back in childhood. By which way can I teach them some geography? What will interest them? After that, how to bring some art or some cultural things in the day? Will it be useful for them? Every morning I had all these questions coming in my mind.
Around 2 PM, we can hear from the house the children of the Roma Mahala (neighbourhood) screaming again "Radi Škola?", to know if they can enter in "the school". This is the part of the day in which we could realise if we prepared well the activities, but also a sharing time to know better personally the children, and to create links with them. So, the afternoon is the second main time of the day. Usually we began by some "formal" class, and after that it was time to have more fun with some craft activities, some music workshops etc.
This 'Service Civique' experience changed my behaviour a lot concerning how I was leading activities. In fact, when I arrived, I had on the one hand a lot of ideas in mind, but on the other hand I was forced to decrease my expectations. I realised how much the language matters to be able to offer thoughtful and constructive activities. So, for me, it was hard because during my studies and my several experiences working with kids, I was taught to propose activities with pedagogic issues. This challenge had an introspection role for me, made me question myself, working on humility; how to adapt and what I wanted to bring without only proposing "funny craft activities".
What I tried to propose did not always work, but I tried to not take it in the wrong way. In fact, these failures were helping me to know better the children and myself. This 'Service Civique' was the first time that I worked for so long with kids, so I decided that it was for me a chance to try things. So, during the first month, I made by myself an escape game for teenagers. I was proud because even if it did not go as planned at all, kids enjoyed it since I think it was one of the first time they did something like that. As the time went by, I had noticed that the kids were almost all interested by art, and more precisely by music. Since I am really fond of it too, I decided to make them sing, make them dance. Once more, it was hard to see that sometimes it worked wonderfully, that kids are doing "good" things, constructive things, and sometimes not at all even if you are doing exactly the same.
Even if this situation is not easy, it is in my opinion what makes this experience a good one, a rich one. Since you are working with human being, moreover with kids and teenagers, it cannot be always the same. You must deal with all their differences: ages, education, languages (some of the kids are not fluent in Serbian), preferences, and of course their emotions. So, you should always be on the lookout, listening.
More generally speaking we have also to remind ourselves that being a long-term volunteer has as many consequences on ourselves than on Roma families and their children. These kids and teenagers are used to go – for some of them – to Imaginatorium for several years. It is part of their habits. But why do they enjoy it so much? In fact, Imaginatorium opens to them many opportunities, this gives them access to practices that they would not normally be able to claim. During my time as a volunteer, I could have seen for example a violin teacher coming once a week, some technological classes with Mbots (little robots), or also workshops on recording short movies. As I said, I also tried to share my knowledge about music, singing and different kinds of dances. I also heard about other teachers, in previous years, giving guitar lessons, electronic music creation workshops, theatre classes and so on. Moreover, during the summer, workcamps outings or holiday weekends are organised, which allow kids to go out of what they know and live on their everyday lives, to meet people from several nationalities and also to receive a lot of attention. These are times only build for them, and you could hear them talk about it all year long. To sum up, Imaginatorium represents a real cultural openness and allows the children and the teenagers to open their minds.
With my coordinator, who has been here for around two years, I could also discuss about how much these kids evolved and improve themselves concerning their behaviour: more respect between them, especially regarding boys and girls relations, more respect towards volunteers. Educational outcomes appear gradually too: more initiatives taken, more creativity, more mutual aid, especially between teenagers and kids, more interest in discovering new practices. And also, for the littlest ones, more reflective and motor skills.
Finally, I could say that this 'Service Civique', even if it got interrupted before the scheduled date because of the Coronavirus pandemic, allowed me in a short time to make a lot of experiences. I discovered how much a country can be divided and united at the same time, how wealth can rub elbows with poverty. I took a coffee at an old Serbian couple, who lived in a house devoid of any comfort. I celebrated a kid's birthday in a Roma family with other volunteers while we didn't speak a world of Serbian. I also had the chance to go in Gjakova to give some food during these times of quarantine, and thereby discovering another Roma Mahala. All along these months, I also met a lot of people from different nationalities, I could have seen things and people evolved.
To conclude, I can say that this experience is/was challenging for me, always pushing me to do more and better and made me more mature. I am deeply thankful for all that I lived thanks to this 'Service Civique' program, which is an amazing opportunity for the youth.